NTHU Alumnus Jordan Hu Wins Outstanding Overseas Taiwanese SME Award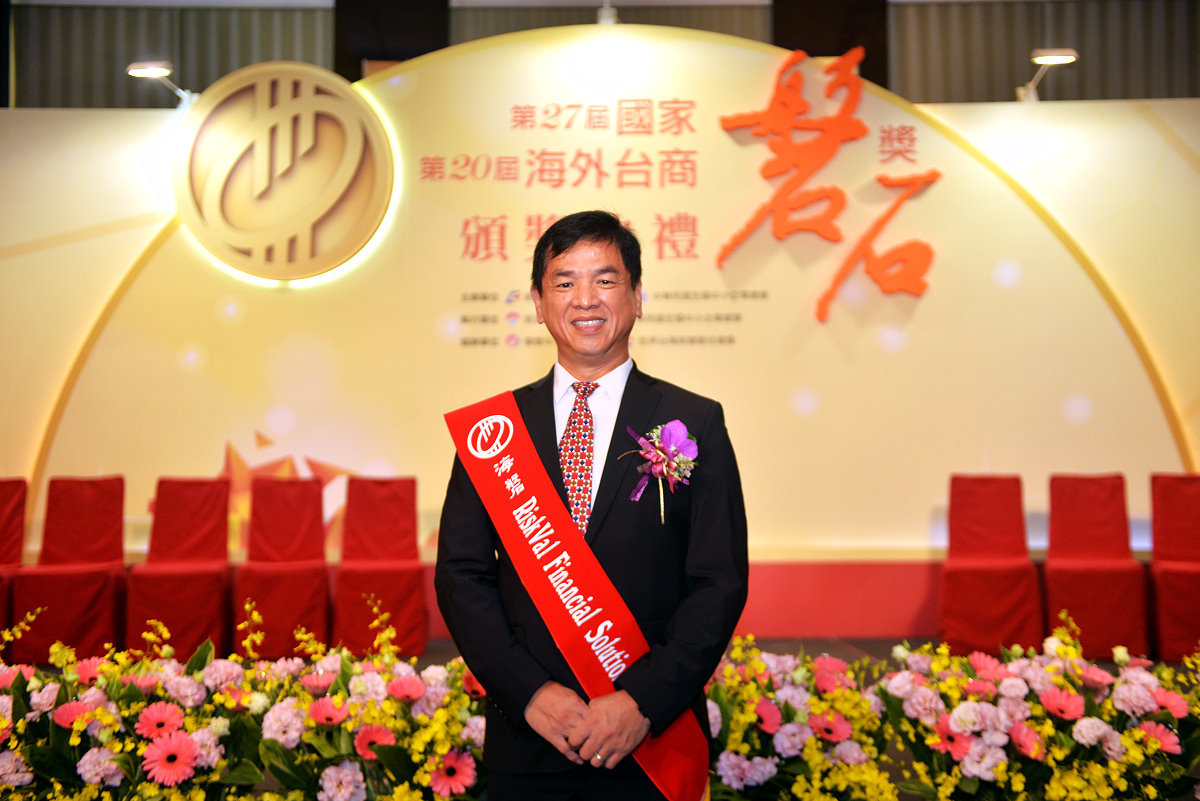 On the 31st of last October, NTHU alumnus Jordan Hu (Department of Mathematics, 1984) was awarded the 20th Outsatnding Overseas Taiwanese SME (Small and Medium Entriprises) Award. NTHU president Hocheng Hong attended the ceremony.
Hu said that winning the award brings not only honor to himself and his entire staff, but also a certain responsibility. During the meeting with Premier Lai, Hu suggested that promoting the development of Taiwan's financial technology industry would be an effective way of advancing the nation's soft power, because Taiwan has a highly qualified workforce, and since such industries are pollution-free and require small amount of electricity.
Hu said that since leaving Wall Street, he has mainly been providing hedge fund strategies and risk management services to banks, and noticed that what is most lacking in the field is talented personnel, adding, "we don't need big factories and lots of manpower—just an office and some smart people."
Premier Lai replied that the government is keen on promoting Taiwan's financial technology industry, yet it's a relatively new sector and the related legislation has only recently been passed, including the Act for the Recruitment and Employment of Foreign Professionals and the Statute for Industrial Innovation, which include provisions for tax incentives for new enterprises.
In response, Hu also said that the government could do more to promote advanced training in quantitative finance and should encourage universities to give more importance to related courses, since "most people don't like mathematics very much, but if you want to talk about big data, you have to have mathematics. And from the perspective of industry, whoever has data will master the world."
President Hocheng said that the financial technology company founded by Hu weathered the financial tsunami amazingly well, and that Hu has long been a generous supporter of NTHU and truly embodies the NTHU motto, "self-discipline and social commitment."
Since its establishment in 2001, RiskVal Financial Solutions, LLC, has been providing high-quality services and developing innovative financial products, including its flagship product, RiskVal Fixed-Income, a trading strategy analysis system currently used by more than 100 financial institutions, hedge funds, and asset management companies worldwide, including Credit Suisse, UBS, and Citigroup.
In recognition of its accomplishments in product innovation, RiskVal has repeatedly received accolades in the Waters Rankings conducted by Waters Technology, a leading financial information technology journal in the United States. Hu himself won the SmartCEO Award for three consecutive years from 2015 to 2017. Although RiskVal only has about 60 employees, its rich output value has made it a key player on Wall Street.
Hu has long been a generous supporter of NTHU, and over the years has made several donations to the Qinghan Scholarship, a merit-based scholarship for disadvantaged undergraduates. He has also made significant contributions to a fund which supports new faculty members to take part in international academic conferences and short-term visits. Hu has recently cooperated with NTHU's Department of Mathematics to design a course in mathematics for financial engineers focusing on the latest trends in the financial industry.
Finally, as a way of making an even greater contribution to his alma mater, this year Hu joined a number of NTHU alumni to establish the NTHU North America Foundation, which is now a registered company in the state of Delaware, USA.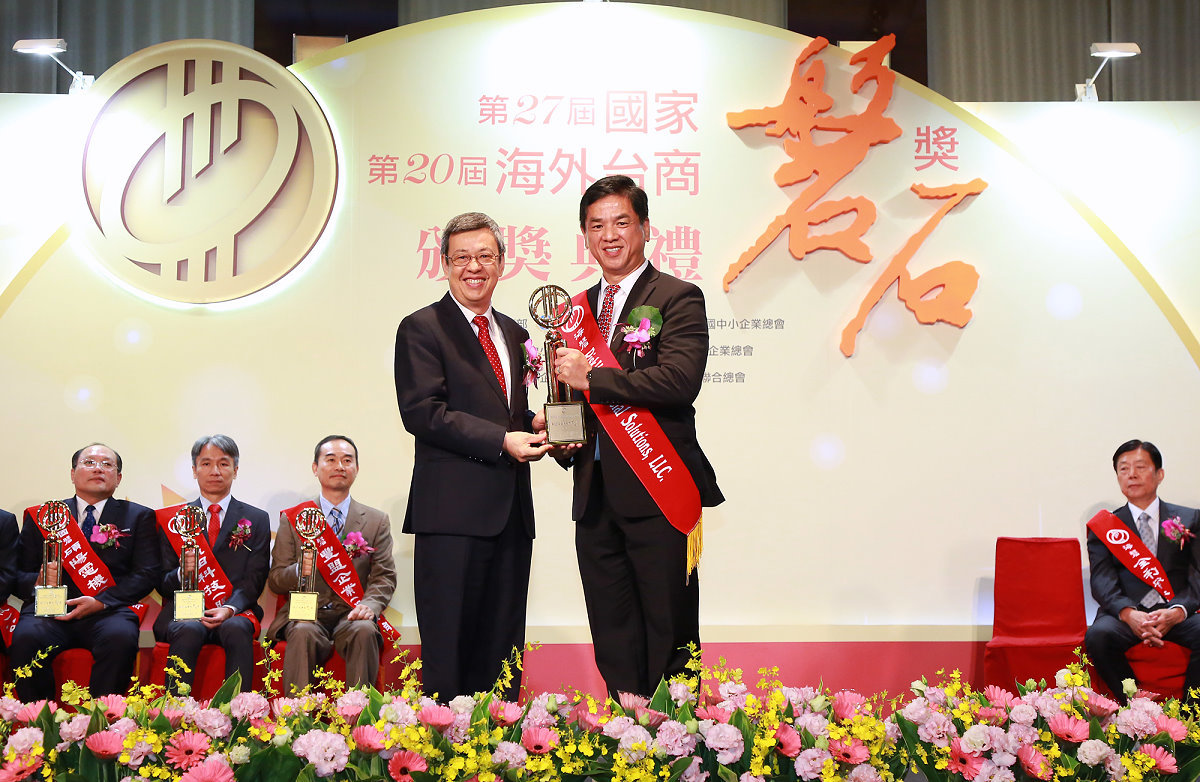 Hu receiving the 20
th
Outstanding Overseas Taiwanese SME Award from ROC vice president Chen Chien-jen.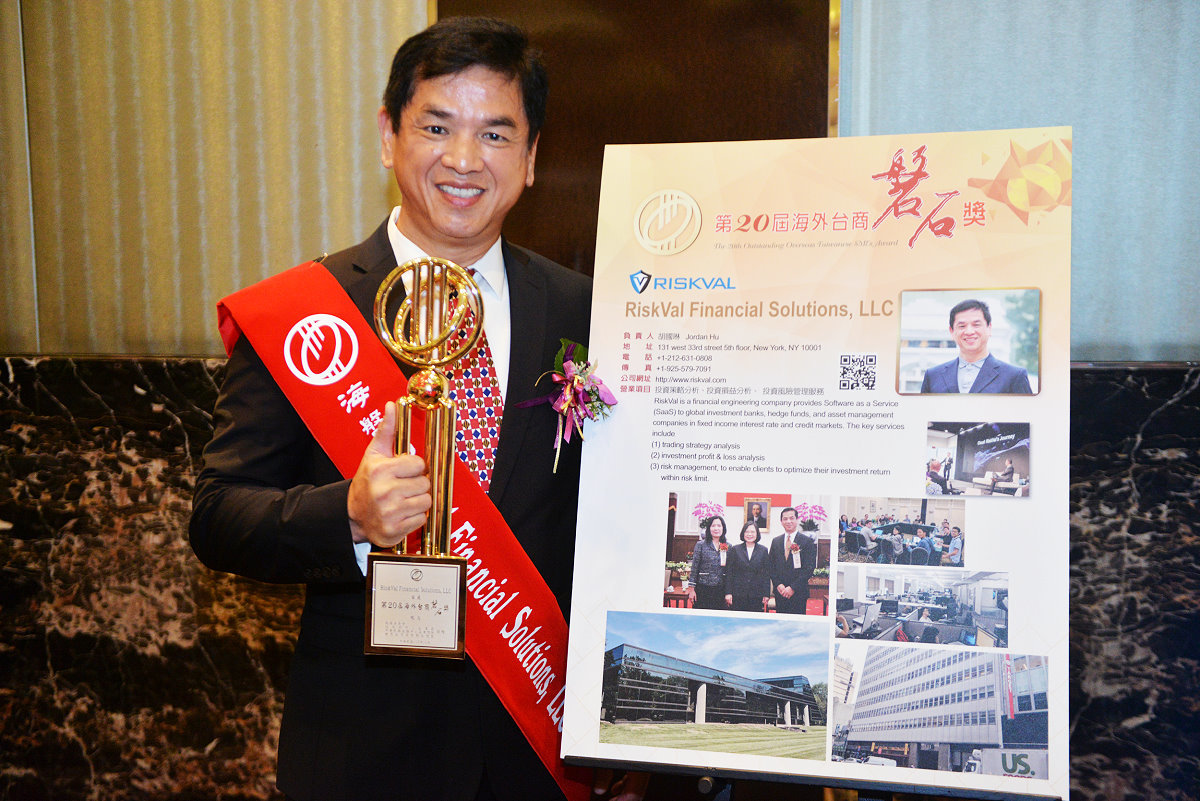 Hu is the founder and CEO of RiskVal Financial Solutions, LLC.