Chun-shan Concert Hall to be Established at NTHU
On January 4th NTHU announced a plan to convert the Auditorium into a concert hall with international standards and name it as the "Chun-shan Concert Hall" in honor of former president Shen Chun-shan, who passed away last September.
At the end of last month NTHU held a memorial event in honor of Shen featuring a concert and a chess match, during which his friends and associates proposed converting the Auditorium into the Chun-shan Concert Hall as a concrete way of commemorating a figure who has played such a prominent role in the development of the University. Former NTHU president Liu Chung-laung launched the fund-raising campaign by donating NT$2 million, inspiring numerous alumni and music lovers to follow suit.
Since its completion in 1973, the Auditorium serves as a venue for a wide range of activities, including ceremonies, speeches, and art performances. However, its acoustics, stage design, and seating don't meet concert hall standards.President Hocheng Hong said that after Shen passed away his friends from all walks of life decided to establish a concert hall in Hsinchu bearing Shen's given name.
President Hocheng also said that Shen was both a scientist and a man of letters, and that this was perhaps related to his career in astrophysics, since the movement of celestial bodies is not only the subject of scientific study, but also a source of inspiration for art and culture. Similarly, music is highly structured, yet also appeals to the deepest levels of human emotion. Thus a concert hall named after him seems to be the best way to commemorate Dr.Shen, a true renaissance man.
The renovation plan for the Auditorium includes structural reinforcement and replacing the lights, sound system, stage and seats, and is expected to cost more than NT$160 million. Upon completion, the concert hall will have a seating capacity of 1,300 and will meet the standards required by a full fledged orchestras.
Vice president and chief of staff Lyu Ping-chiang said that the Chun-shan Concert Hall is expected to be on par with the three world-class concert halls currently in use in Taiwan: the National Concert Hall in Taipei, the National Taichung Theater, and the National Kaohsiung Center for the Arts (Weiwuying). Lyu also pointed out that many people at the Hsinchu Science Park are actually music fans, and that Hsinchu has a music radio station "IC FM97.5"which can be expected to promote high-quality local music performances.
Professor Chang Fang-Yu, the director of the Music Department, added that the new concert hall will be a real boon to her department, the Vocal Performance division of which recently performed an opera in conjunction with the College of Arts and the Department of Foreign Languages.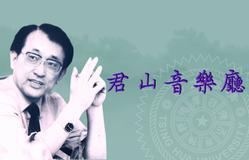 NTHU is currently raising funds for the future Chun-shan Concert Hall.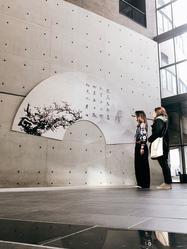 A poem written by Shen Chun-shan displayed at the memorial event held in his honor.