Taiwan scientists develop rapid test for potential severe COVID-19 cases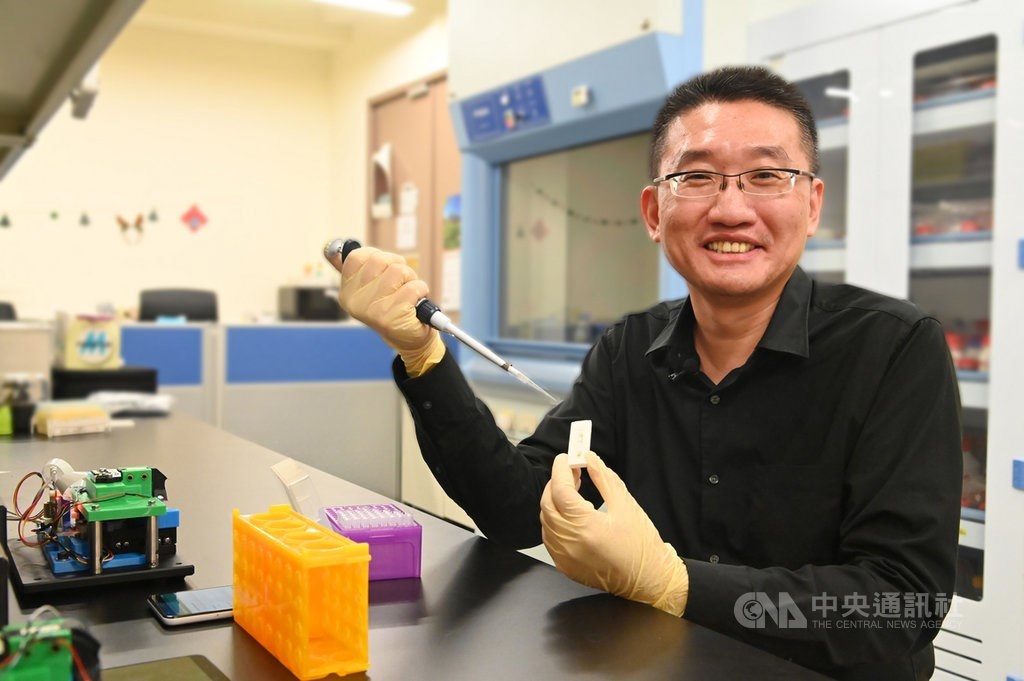 Cheng Chao-min (鄭兆珉), a professor at the university's Institute of Biomedical Engineering.
Taipei, June 30 (CNA) Taiwanese researchers have developed a test kit that can detect potentially severe cases of COVID-19 in just two minutes, and it is now in the clinical trial phase, the research team leader said Tuesday.
The prototype of the rapid test kit was developed by National Tsing Hua University and Tri-Service General Hospital, Cheng Chao-min (鄭兆珉), a professor at the university's Institute of Biomedical Engineering, said during a presentation of the research project.
The research team is working with Italian hospitals and medical institutions to carry out clinical trials of the test, Cheng said.
The team has also filed an application with the U.S. Food and Drug Administration for emergency use authorization (EUA) of the test kit, based on the results of the clinical trials, he said.
Compared to mild COVID-19 cases, patients with severe infections of the disease have significantly higher levels of serum interleukin (IL‐6), a cytokine that triggers the body's immune and inflammatory response to fight infections, Cheng said.
The two-minute test works by measuring levels of IL-6 in human serum and can be used to help identify patients who are more likely to develop severe COVID-19 illness, he said.
Two red lines on the test kit mean high levels of IL-6, thus signaling a possible severe COVID-19 infection, while one red line means low IL‐6 levels and likely mild symptoms, according to Cheng.
High levels of IL-6 can cause the immune system to begin attacking itself, unleashing a cytokine storm, which has been linked to the death of a number of COVID-19 patients, he said.
While people usually experience mild influenza-like symptoms in the early stages of COVID-19, they can quickly become seriously ill, therefore, it is crucial to identify those who are likely to develop severe COVID-19, to prevent death, Cheng said.
Meanwhile, Wang Yung-chih (王永志), a doctor at Tri-Service General Hospital's Department of Internal Medicine and a member of Cheng's research team, said that the IL-6 test can help to identify severe inflammatory response in COVID‑19 patients and thus assist in the assessment of the need for intubation and mechanical ventilation.
In a statement, National Tsing Hua University said it is looking forward to collaboration with business sector to mass produce the test kit.
Original Content Source: Focus Taiwan